2017-2018
ANDIE NOLLA
There is no amount of words that can say how grateful I have been for my time at CPAC. I truly feel like I have grown as a person and dancer in my time here. So many of the lessons I've learned about technique, cooperation, and work ethic I will carry with me forever! Nancy, all of the beauty that happens within this studio is because of you. I could never thank you enough for allowing me to experience all that I have with CPAC! You have created a second home for many of us, giving us all the tools we need to become successful dancers and people. Your generosity and support of all the dancers at CPAC is greatly appreciated, and I'm so glad I got to become a part of this family. Kristen, just in three years, you have taught me more about technique than I have learned in the rest of my life. Thank you for constantly working with us, and expecting the most out of us every class. Thank you for mixing up our class, and having something new to challenge us every week. I will definitely miss the laughs, the early 2000's pop, and occasionally being called "Danny" when you get really tired! Jordan, your creativity and raw talent with choreography amazes me constantly! I am so thankful I've been able to work with you. Through your work, I have been able to explore and find such meaning. I've learned that having something look purposefully "ugly" can reveal true beauty, and the range of emotions just one piece can have. Because of you, contemporary now holds a very special place in my heart. Tessa, working with you over the past couple years has been an absolute joy. Your creations have pushed my boundaries, and make me ask more of myself in the best possible way. Thank you for inspiring me to work harder when times were tough, and enabling me to do some pretty crazy floor work! Zack, any time I hear the song "Stand by Me", now and for forever, I will think of that rehearsal. Thank you for dealing with all of our shenanigans, and for helping make that dance one I still think fondly upon. Thank you for all the chats in the hallway, and always helping us figure out the lifts in our dances! Lindsey, you are the reason we have the chance to get stuff done around here! Thank you so much for working around everyone's schedules, and making sure things are running smoothly year-round. Jen Lee, you are sunshine. Your unwavering support of ALL the dancers at this studio is cherished. Thank you for always going above and beyond, both in and outside of rehearsals. You make us work harder, and you push us to do more with our dances, but also take interest in our lives outside of dance and are always willing to have a chat. Thank you for believing in me, even when I didn't believe in myself. You are a positive force in the world, and it impacts all who you come in contact with. And man, am I gonna miss those HUGS!
Chaka OUT!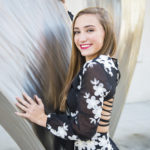 ELIZABETH LAGE
I am still in shock that my time at Columbia Performing Arts Centre is coming to a close. It feels like yesterday I was begging my parents to let me audition for the competition team, and I am so glad I convinced them. So many friends and memories have been gained at this place and I could not be more thankful. For the past 8 years I have had the pleasure of getting to know and grow with so many girls and boys, I can truly say I have a second family because of this place. Thank you Gracie for always giving me confidence and helping me to believe in myself. Thank you Chloe for inspiring me each and everyday. You are the reason I wanted to start choreographing and have now pieced together my own solo. To all of the teachers here–you have also changed my life. Thank you Candace for teaching me to love jazz and also letting me assist you with the precious kids for the past couple of years. You have taught me so much. Thank you Katie for all of the tap education you have given me. Thank you Zack for always letting me mess with you, and listening to my long rants about life. And also for teaching me to keep dancing whether I've broken a bone or the whole building is burning down:) A big thanks to Kristen for leading me into the dancer I am today. You've dedicated so much of your time towards me in class and in solo rehearsals. Without you I would honestly be a horrible dancer. Thank you to the talented costume shop, Jamie, Ashley, and Kelly, for making me feel like the coolest person ever when I walk down the halls at competitions because everyone is always staring, in awe, of what you create for us to dance in. And to Jen, thank you for always keeping your arms wide open if I need comfort over a boy, school, or just life. You are always there to listen to me and to pretend you know what I am saying when I am obnoxiously crying. I cannot forget about THE Nancy Laurie of course. My teammates and I cannot thank you enough for everything you have done! From bringing in some of the best choreographers, to building this amazing studio, to taking all of us on some pretty marvelous trips. You are so generous and loving! I have had the greatest pleasure being able to dance in your studio. To my three wonderful brothers, you are lowkey the reason I have so many friends. So thank you all for being extremely attractive because it has caused a lot of girls to come talk to me. To my loving sister, thank you for inspiring me and being my absolute bestfriend. You are more than I could ever ask for. I am so blessed that you were able to participate in this journey with me. Jaden, thank you for also being alongside me for this crazy ride at CPAC. I am so lucky to have had my sister and my cousin by my side at dance all these years. To my Mother (Gold Shimmer) and my Father (McDreamy) all of this was possible because of you two. You both have sacrificed so much for me… your time, energy, money, focus, and also your attention towards my other siblings and even each other. I cannot be more grateful so thank you from the bottom of my heart. Dad, even though you gave up your dream of moving to the desert so I could continue to train at CPAC, I still hope we end up somewhere sunny together. Also a huge shoutout to the one and only God. He gave me a passion for dance and also the capability. Yippee, Exciting, Enjoyable, Thankful. CHAKA OUT!!!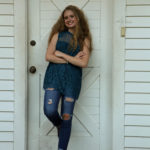 MADELINE HORRELL
Moving to all different music genres ever since I was a little girl meant that dance was my passion from the beginning. I fell in love with CPAC once I began my yearly movement classes at the age of three. I have been dancing on the CPAC competition team for eleven years, and have loved the phenomenal exercise and enjoyment that it provides me. The CPAC faculty is always supportive of helping me maintain my passion so, thank you for that! An absolute huge thank you to Nancy Laurie for her unconditional love to all of us dancers and this amazing facility that I got to call my second home for so many years. I will always cherish Columbia Performing Arts Centre in my heart and miss it like crazy for many more years to come. All the CPAC dancers continue to be amazing in every way and thank you for letting me share this wonderful journey with you. Chaka forever!!!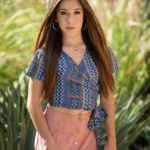 GRACIE HEAD
If I were to go back in time and ask 3 year old me what I thought CPAC would mean to me one day, I would have never imagined the impact this place would have on my life. CPAC has not only been a second home to me over the past 15 years, but has helped me discover who I want to be as an artist and a person. Each person I have met along my journey has impacted me in so many ways and I cannot wait to share what you all have taught me over the years with whomever I cross paths. Nancy, I truly do not even know what to say. You have created such a place that not only teaches kids how to dance, but teaches us how to work together, how to share a stage, share laughter, tears, and so many special moments with each other. You have provided THE GREATEST facility and choreographers to work with and I am forever grateful. Thank you from the very bottom of my heart for each and every opportunity you have provided me. There are so many things I have set out to do in this world, and you have guided me along this journey. Your generosity and true love for this art form shines through you and CPAC is so incredibly lucky to have you as their creator, supporter, and amazing woman that you are. Kristen, you have not only taught me every bit of technique I have, but you taught me how to love ballet. You make each and every class something so exciting. It makes my heart so happy to think of all the Taylor Swift songs you would play in makeup ballet and all the times I would sing my heart out to "Breathe" during plies, "Everything Has Changed" during rond de jambes, "White Horse" for our waltz, and so many more. Thank you for all the laughs, and for taking time to foresee my goals and help me work towards them. I am truly going to miss your classes. Katie, I will never forget my first ever dance with you, "Military". Each time I think about this dance, I cannot help but smile so big and remember the (many) times Avery, Chase, and I would run to you and ask to turn it into a trio. You have been such a great tap teacher, but an even greater influence on me. I am so thankful for all of our talks about life and nutrition. I love you so much. Zack, you have changed me as a dancer. You taught twelve year old Gracie how to be tough and work through pain even when it is hard. You have not only taught me incredible life tips in the studio, but outside… like when a group of us got a golf cart stuck in mud and had to call you to save the day. I learned never to trespass again (haha). In all seriousness, you have helped me grow so much and I am so thankful for all the one-on-one workouts and solo rehearsals we have had together and all the duo rehearsals. Jude and I could have never done any of this without you… so many good memories! Jordan, you are the absolute most creative person I have ever met. You are a genius. You have not only helped me grow as a contemporary dancer, but as an artist. You have taught me that it is not all about the "tricks". There is so much more that goes into dancing and you bring out such rawness in dancers. I am going to miss learning from you so much. Thank you for being so so inspiring. Tessa, you have been one of my greatest inspirations for a long time now. Thank you for always believing in me and for continuing to push me past my limits. I am going to miss all of the great times we have shared, laughing until crying in rehearsals, that stupid roll I can never figure out, updates on my headspins, to talking about what it takes to make it in the dance world. I cannot wait to utilize what you have taught me in heels so that I can dance with Brian and Scott (and Ari) one day. You have given me so much advice in which I could never repay. I will forever look up to you. Thank you for being like a big sister to me. Jaime, Ashley, and Kelly, you guys make our dances come to life. The costuming you create is beyond exquisite and I feel honored every time I get to wear something you made. I could never thank you guys enough. Jen, I cannot even begin to write this because there is no amount of words that could even come close to describing what you have done for me. You have been here with me from the beginning and not once have you ever doubted me… even when I doubt myself. Thank you for being the greatest friend, second mother, mentor, provider, all in one. I will carry all you have taught me, as a dancer and a person, with me wherever I go. I love you. Lindsey, thank you for all that you do. None of this would be possible without you… thank you for always working around whatever commitments we have and for always lighting up the room with your beautiful smile. Mom, Dad, and Christian, thank you for staying up until I get home from dance just so we can eat family dinner each night (I know it's late) and you guys would not do this if you were not so supportive of my goals and dreams as a dancer…THANK YOU. I am so lucky and blessed to have you guys. To my CPAC seniors, family, and my "Flossy Posse", I am going to miss you guys so extremely much. These past nine years on team have been the greatest times of my life. We have all been through so much and I would do it all again in a heartbeat. You have all inspired me beyond belief and I am so extremely grateful and honored to have shared the stage with each and every one of you. To Grace, you are so special. I cannot believe you just moved here two years ago. You have been one of the greatest pleasures in my life. I thank God for your friendship each and everyday. You light up each and every single room you walk in and I do not know what I did to deserve you as my "little sister". Thank you for inspiring me and allowing me to take you under my wing. You are going to accomplish amazing things in life… there is no doubt in my mind. I love you. CHAKA OUT:(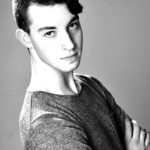 HUNTER FORTHAUS
I can't believe it's already time to perform in my last showcase. I remember reading all the senior bios of years past and thinking that it would be forever until I got there, until I would write one; it's crazy how time flies. Growing up with my second family here has been an utterly incredible experience. Being surrounded by all my closest friends, having the immeasurable wisdom and support of all the teachers, nothing could come close to how at home I feel here. CPAC has been my home for ten years now, and everyone and everything here will always hold a place in my heart. To Ms. Nancy Laurie, no amount of gratitude I express could fully tell how thankful I am of every opportunity I've received. Because of you, I've been able to explore and push every aspect of both my artistry and my expression and I've been find my honest self. I am beyond thankful for all of your kindness. To Ms. Jen, where do I even start…walking into this building ten years ago, I couldn't have imagined how shaping the lessons and wisdom you gave would be for me. For always having a listening ear and brilliant advice, and always giving us the truth no matter how much we didn't like it, I am extremely appreciative. To Kristen, Katie, Zack, and Jordan, I wouldn't be the same person standing here right now if I hadn't had the guidance of all of you to help me learn and help me grow. Because of you, I've been able to truly become someone I love, and the lessons I've learned from you are things I will carry with me for many years to come. And to my fellow dancers, my second family, I will miss you with all of my heart. I'm not entirely sure how well I'll be able to hold up without you guys, but I'll manage, I promise. You all are the reason I'm so comfortable with everything in my life, why I can so fully be myself when I'm up there performing. You all hold incredible value to me. Trying not to cry is going to be the hardest part of tonight, because every year this is the weekend I look most forward to. This is the outstanding weekend of every single year, and these shows are what I remember most of any memory in my head. I am so, so, so incredibly excited to be able to perform alongside my greatest friends and for my favorite mentors, and no matter how far away I am, this place and these people are always my home and my family.