2021-2022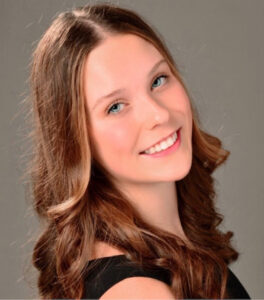 Ainsley Beard
Where do I even begin? My Mom will tell you that it seems like only yesterday she was putting me in a baby ballet class at not even 3 years old in my hometown of Jacksonville, North Carolina to "burn up some energy" but all I can remember is my love for dance. Being a military "brat", we moved around a lot. I had to change schools and dance studio's which was scary, and it wasn't until we came to CPAC 5 years ago that I felt like I was truly HOME! I was so nervous when I saw this gorgeous facility that very first day. But Jen Lee welcomed me with the biggest hug and open arms. From that moment on, my fellow team members became my family and Jen Lee became my second Mom. I can't imagine being anywhere else or growing up with any other friends that became family and mentors. Every single person at CPAC has changed my life for the better and I don't even know how to begin to thank all of you.
Jordan- thank you for always believing in me, even when I didn't believe in myself and for constantly pushing me outside my comfort zone. I know that I would not be the dancer I am today without you!
Tessa- thank you for always expecting nothing but the best from me which has helped teach me to always give 100% both in dance and in life.
Kristen- thank you for never letting up on me and for my corrections. Corrections help us grow and without you that wouldn't have been possible.
Zack- thank you for helping me that first year at CPAC. You gave me advice at a dance competition that has always stuck with me, and I will forever be grateful.
Thank you to everyone in the costume department, the Office, the lighting team, and anyone else that I forgot that helps CPAC be so incredibly magical!
To my fellow team members, my friends… my family: "How lucky am I am to have something that makes saying goodbye so hard".
Now to Jen- "I have no fear, I have only love" and that is because of you! Thank you for allowing me to be me and for loving me unconditionally. I would not be the person I am today without your constant love, support, and guidance. You have made me a better person and I am forever and always grateful for you. I could not imagine this journey without you!
Ms. Nancy- you have created such a special place for all of us and for me it really has been my second home, the place where I've been able to find myself and lose myself, to flourish as a dancer and as a person plus I have been able to meet the most amazing humans in the World. I cannot begin to thank you enough and tell you how much CPAC and the opportunities you have provided have meant to me. They have been life changing and I will be forever thankful for your love, kindness, and support.
I can't forget to thank my family who has always supported me: my Dad, my Sister, my Grandparents and Linda. Last but certainly not least my Mom. Thank you, Mom, for always seeing something special in me and for literally never telling me "no" when it came to dance. You saw a spark 15 years ago and have nurtured me, pushed me, encouraged me, and supported me to pursue my love of dance. I hope to make everyone proud at CPAC as my goal is to pursue dance in college and as my career! Who knows, maybe one day I will be back to teach!
Again, thank you all so much! I am so incredibly honored to have been a part of CPAC!
All my love- CHAKA OUT!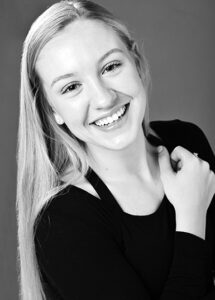 KATE ECHELMEIER
Time flies when you're having fun, and let's just say I had a lot of fun here at CPAC for the past 11 years. Though there have been many bumps through our journey the last few years, this family has proved that anything is possible with determination and passion. I'm so grateful to be surrounded daily by people with the same passion for dance as myself, so I want to say thank you to all my teammates. You all have not only pushed me to be a better dancer but remind me of why I come to dance every day. The stress, soreness, and literal blood, sweat, and tears are all worth it. To Jen Lee, my best friend, I can't thank you enough for the potential you saw in me since day one. You have never given up on me or any other dancer and have dedicated so much for us to be better dancers and humans. You're my forever dance momma and put in so much work daily that doesn't go unnoticed! Kristen, Jordan, Tessa, Katie, Zach, and Chris, thank you for everything. It goes without saying that these are some of the most caring and wise teachers/mentors to be growing up with and learning from. You all have helped me push my boundaries over the years and created such an uplifting learning environment here at CPAC. Thank you to the lighting and costume shop who put in countless hours in order to make our dances come to life. Mrs. Nancy, thank you for all of the opportunities you have given me and the team. From our beautiful facility to the best choreographers, and even sitting front row to watch us become national champs! We couldn't do it without you! To Will, Matt, Mom and Dad, you all have sacrificed so much for me to have the best childhood I could've asked for. Thank you for being my biggest fans and always supporting me, love you guys! Moving forward, it is scary to think about what life without CPAC looks like because I've never experienced that. But I know that I will carry with me everything I've learned here, and I can't wait to see what the future holds!!
CHAKA OUT! <3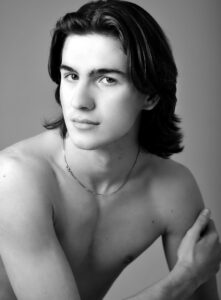 RYAN EVANS
I began dancing at age 3 with my mom as my dance teacher, and at first it was something that I hated. Any time I was on stage I'd cry, and I don't think I even actually danced. It was hard to get me to cooperate back then and I eventually began to start cooperating and ended up liking it. Now I can't thank my mom enough for putting me into dance classes at such a young age to let me grow a love and passion for this art. I grew up dancing under my mom's dance studio until I was about 13, and then I moved to Columbia Performing Arts Center once it closed. I have now been at CPAC for 5 years, and I am so glad I got to experience being with this studio. This studio has always been so welcoming, and I am so lucky I can call this place my home. I would like to thank all my fellow dancers for being some of my favorite and coolest people I've ever met. I love all of you and am so lucky to have shared these experiences with you. I would like to thank the costume shop for providing us with some of the coolest costumes in the world. You guys are seriously the best and we are so lucky to have you guys. Thank you Zach for teaching me how to be a better partner and being such a fun spirit in the studio. Thank you Tessa for being the sweetest person ever, you are so enjoyable to be around and I loved learning from you over the years. Thank you to Katie and Chris for making me be at least decent at tap. I am very grateful for both of you. Thank you to Jordan for being such a creative mind that we all get to learn from. You made me realize it is okay to take different routes with my dance choices and there are different levels to how I can move throughout my body. Thank you to Kristen for being the first teacher I've ever had to be excited to go take ballet from. I feel like I have learned and grown so much from you over the years, and I will miss your guidance greatly. Thank you to Jen for being our biggest cheerleader and the most supportive person ever. Your passion and drive for what you do has inspired me so much throughout the years, and I am so glad to be able to learn and grow from such an amazing individual like you. The biggest thank you to Nancy Laurie for providing us with a place that changes all our lives forever, and somewhere where we can have all these amazing experiences at. None of this is possible without you. I want to thank my Dad for being the most supportive person in my life. You have always taught me that doing what makes me happiest in life is the most important, and I am so lucky to have such a good father like you. Lastly, I also want to thank my grandmas, my aunts, my uncles, Keagyn, Timmy and the rest of my family for supporting me for these last 15 years and helping me do what I love. Thank you to all of you. I love you all so greatly and you all have made such an impact on my life. Chaka out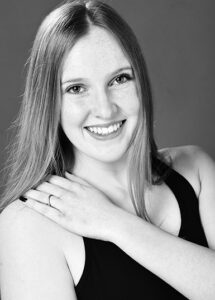 KAYLA FERGUSON
I began dancing at CPAC at the age of three while also doing other sports such as gymnastics, basketball, and softball. As I got older, my love for dance continued to grow and I eventually committed solely to dance. Growing up in this studio has been the best experience and I would not want to have dedicated fifteen years anywhere else. At the age of seven, I took my first regular tap class and my true passion for tap dance began. It's what keeps me going and I see it being a part of my life far down the road. I am currently a Senior at Battle High School where I am a Link Crew leader as well as a member of the National Honor Society. I plan on going to college to major in biology and eventually become a physical therapist. I also would love to teach tap and set some choreography of my own for dancers who also enjoy the rudiments of tap dance! I have had many opportunities that I am beyond grateful for including being one of 25 tap dancers around the world chosen to be a part of the American Tap Conservatory. Other opportunities include being able to travel to many places across the country, the most recent being Las Vegas for nationals, where my team took three national titles. That was definitely a highlight throughout these amazing years! Although I am heartbroken that this is my last year here at CPAC, a part of me is excited to see where my next chapter takes me and where the journeys of my fellow seniors take them. It has been a pleasure dancing with you all and I am going to cherish every coming moment I get to dance with you guys and at this amazing studio.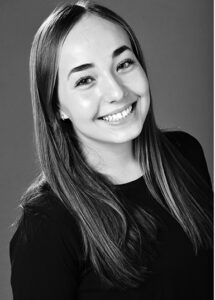 ELLY HALL
How has it been 9 years? I am so grateful that I have been able to spend that much of my life doing what I love here at CPAC. I remember watching the 2013 Showcase and watching the people I've now grown up with perform on stage. The next year I auditioned for the competition team, never expecting the impact it would have on my life. To this day, I am still inspired by watching my teammates, some of the same people I watched on that stage. The energy you all create on stage and in the studio will never cease to amaze me. I am reminded everyday of how fortunate I am to be a part of it. The bond we have as a team and as a family is unparalleled and I don't know if I'll be lucky enough to experience anything like it again. Growing up here, I have learned to give my all on everything I do and not save my energy. There is no point in doing anything if you aren't going to give it 100 percent. With this mentality, nothing else matters besides what is happening right now in this studio or on this stage, so I don't have to worry about what is to come in 30 seconds, 2 hours, or 2 weeks. This is one of the many things I will take from CPAC. Everyone here has done so much for each of us. Thank you Zack, you are the best first ballet teacher by teaching me the importance of self-awareness and strength in my dancing, as well as respect in and out of class. You never let me slack off and that accountability showed that you believed in me. Thank you Kristen, you taught me how to dance in ballet and pay attention to every detail about what I am doing. I learned from you that there is always something I can be working on and doing to make myself better. Each correction you give helps my dancing so much and I am so grateful to learn from you. Thank you Jordan, I have learned so much from your combos and choreography. Each is different and makes me think about dance differently. You gave me my first solo last year and you were so supportive through the whole process. I was always so nervous to perform and you gave me the best advice that I will always take with me: to never try to recreate a moment on stage, but to create a different one. After having a good experience with something, it is sometimes difficult to make the exact same thing happen again. You could tell I was worried about that and always helped me fix it. My solo transformed my dancing and it was a piece I truly loved. Jen, words cannot describe how grateful I am for you. It is evident in everything you do how much you love each of us and this team. Thank you for making this team what it is and me who I am. You exemplify how I want to be in life and I will forever find ways to be more like you. The biggest thank you of all goes to Mrs. Nancy Laurie. None of this would be possible without you and I am endlessly grateful for the opportunities you have given me and everyone on this team. Thank you for creating this beautiful space to learn and do what I love everyday. Of course, I wouldn't be here without the constant support from my family. Mom, Dad, Papa, Nana, Kate, and Keaton: thank you for watching me do what I love and cheering me on from the audience or from the livestream. Having that support when I am so nervous means the world to me. Thank you CPAC for the best 9 years. I'll miss everything about you. Chaka forever!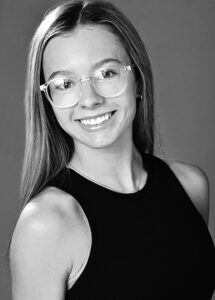 MEREDITH INMAN
After spending the last 10 years at CPAC, it's a surreal feeling that this is my last year. I started dancing at CPAC when I was 7 years old and joined the competition team the year after. At that time, I thought I was just dancing for fun; little did I know CPAC would give me a love for dance and this team would become like family. I know everyone says CPAC is their second home and that's because it's the truth. To my fellow seniors, thank you for being my best friends and always supporting me through everything. Words cannot describe how much I love all of you.
Zach, my first ballet teacher – You taught me that strength is key to becoming a good dancer. When I had doubts on whether I should continue with dance, your encouragement was a big part of me sticking with it. You never stopped believing in me and I will always be grateful to you for that.
Kristen – I was intimidated by you at first but when I look back on your classes, I appreciate how you always pushed me to be the best dancer that I could be and challenged me to mature as a person. You taught me to be respectful, listen, process information, take corrections, and always work to improve. The opportunity to learn from someone as talented as you has been an amazing gift.
Jordan – You're an inspiration. Your choreography for "There Isn't Nothing" was the first time I understood that dance isn't just about doing the moves; it's about connecting with your team and sharing a story with your audience. You continue to foster my love of dance by making every class interesting and engaging. You have a brilliant, artistic mind and I am so fortunate to have you as a teacher and choreographer. It has been a joy to perform your pieces.
Jen – You love this team with your whole heart. Your authenticity has taught me to always be myself and not worry about what others are saying or doing. I know I would not be the dancer, nor person, I am today without you. I love you and will forever be your Mere Bear.
To the Costume Shop – I feel so much pride for your talent and creative designs when I hear other studios compliment our costumes. Thank you for bringing our dances to life and helping us tell the story.
To my family – Thanks for helping me haul the dream duffel all over the nation and for letting me keep my stinky costumes in the spare bedroom closet. I know dance can be very time consuming and I wouldn't be here if it wasn't for your sacrifices and continuous love and support.
The biggest thanks goes to Mrs. Nancy Laurie who makes all of this possible. The faculty, staff, and teammates here in this beautiful building are the foundation of my most cherished memories.
Every single person at CPAC has had an impact on my life and I'm so blessed to have had this experience. Chaka forever 🙂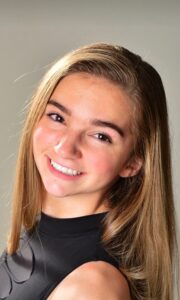 ISABEL LAGE
I genuinely cannot comprehend the fact that this is my last year here. I first joined CPAC solely because I wanted to be more like my older sister, Liz. However, over the ten years that I've been on the competition team, dance has turned into one of my greatest joys and passions in life. The idea of not spending every single night at the studio, and only visiting a few times a year is bizarre to me. There is no other place I'd rather spend my days.
Costume shop- Just the fact that you guys know my name shows me the care you guys put into your job. My family's always so in awe of the things you create in such a short amount of time. So much so, that my grandma is always asking me if she can have my past costumes. (It's likely she'll be wearing one of your creations at showcase, so look for her!)
Zach- Thank you for being my first ballet teacher. One of my proudest moments was when you nicknamed me Mighty Mouse during my first year. My little eight-year-old self was ecstatic to be called strong by a 6 foot plus man.
Jordan- Each year you impress me further. Your creativity has no limit, and you are not only an impressive choreographer but also a great teacher. Thank you for my solo, and the ways you push me to improve in each rehearsal.
Tessa- You are always challenging me to work harder and to plie lower. The studio is so lucky to have you as an in-house choreographer. Thank you for all that you do for us.
Kristen- Honestly, you still scare me, but in the best way. You have become a person that I respect so much that every day I want to exceed your expectations. Thank you for giving me such a solid foundation, and I'm sorry that I still haven't managed to learn ballet terms.
Jen- I'm bawling as I write this. Even though we kids cause you so much stress, you love each one of us deeply. Thank you for always calling us out on our bull, and expecting nothing but the best from us. Thank you for being there for me when my parents weren't able to. You've made such an impact on me I'm tempted to get "CHAKA" tattooed across my forehead.
Nancy- The biggest thank you to Nancy. Your generosity truly has no bounds. I'm so thankful for all of the opportunities I've been given because of you. Your kindness is seen, and it is appreciated greatly.
My Teammates- I love you guys so much. No one else has seen me cry as much as you guys have, but I wouldn't have it any other way:)
Fam Bam- Thank you to my parents who were selfless enough to let me stay and finish my last two years at CPAC, despite your moving to Arizona. Thank you for always putting my wants before yours. Thank you to my three brothers for always coming to support me, no matter how much it might bore you. Thank you Liz for being the one that inspired me to start dancing in the first place.
Columbia Performing Arts Centre will always be my favorite place. Chaka Werk Love forever<3
BELLE MAGSAMEN
So the time has come, Senior year. Seems crazy to me that just five years ago I walked into CPAC not knowing what was in store for me for the next few years. From the moment I stepped into my future home, I knew my life was only going to get better from there. Thank you to Jen for always being there for me, thank you for accepting me as one of your own. You truly are my biggest role model and I honestly have no clue where I would be without you guiding me through life the past 5 years. You taught me not only how to love dance, but you taught me how to be an amazing person in and out of the studio. Thank you to Tessa, for the consistent kindness. You've helped me grow in many ways that others could not. Your love is unmatched when it comes to us dancers. I could never have asked for a better time with you. Thank you to Kristen, you've taught me how to improve from my mistakes and how hard work pays off. You've never stopped believing in me and I could not be more thankful for everything you do. Thank you to Jordan, for always pushing me outside of my comfort zone. I always look forward to classes and choreography with you because you show everyone how much you love what you do with your kind heart and passion. Thank you for teaching me how to express myself with dance. Thank you to Nancy Laurie for providing me and my dance family with a place to call our second home. You've created such a positive and loving environment for us, and I could not ask for anything more. I wanted to say thank you to my parents. Mom and Dad, I love you both so much and thank you for always being there for me and supporting me throughout my life. To my team, you guys truly are my second family and I love spending every moment with you all, whether that's at CPAC or outside of it. From the countless hours of waking up early for morning rehearsals to staying up late to perfect our dances, I would not trade ANY of it for the world. You guys are the reason I love dance. Seeing all of you grow into the amazing humans you are now is truly inspiring. Being able to watch you all every day is such a blessing. I love you all from the bottom of my heart and I can't wait to see where life takes all of you in the future. I will forever be thankful for my time here and being a part of the CPAC family. Chaka out<3